"As my ancestors are free from slavery, I am free from the slavery of religion."
– Butterfly McQueen
Humanists of Color
Building a Strong and Diverse Community
Building a Strong and Diverse Community: A Profile of Black Atheists of America
By Ayanna Watson
Black Atheists of America (BAAm) is a non-profit organization dedicated to bridging the gap between atheism and the black community. I founded the organization in 2010 with the intention of diversifying the growing atheist movement and promoting critical thinking.
The black community is the most religious community in America, according to a 2011 Gallup report. BAAm addresses issues that directly affect this community, while providing a support group for black atheists. Religion is so deeply rooted in the black American culture that when a member of the community identifies as an atheist, they are often seen as turning their back on their culture.
There is a lot of misinformation in the black community about American history. The black community attributes many of its accomplishments to religion. Many black Americans believe that the main reason why blacks survived the Jim Crow south, for example, was due to the Black Church. The Black Church was instrumental in facilitating the organization of the black community. It facilitated communication and the pooling of resources, while providing a safe meeting space for members of the black community.
One should not, however, be quick to equate the necessity of the Black Church as god being a necessity to overcome social injustices. Each of these benefits could have just as easily been achieved without religion. The church took a leadership role in the civil rights movement because its presence and infrastructure was uniquely positioned to do so. The church also promotes anti-intellectualism by requiring its members to dismiss reality and expect supernatural solutions. This line of thinking restricts the ability of the community to study its problems and create real solutions.
Some black atheists note that such a belief is not only incorrect, but insulting. It is essentially saying that social injustices are not enough for members of the black community to fight for equality, and hence a god is necessary to inform these individuals that inequality should not be accepted.
The belief that god was a necessity in overcoming social injustices also ignores the efforts of non-believers during these movements. For example, no one disputes the fact that A. Philip Randolph was a major contributor to the civil rights movement, but his open lack of belief is often kept silent.
Black communities in America are plagued with poor health care, inadequate education and poverty. In these communities one often finds a large number of churches. In fact, these areas serve as homes to some of the largest megachurches in the country. These entities are not required to pay taxes, in spite of the fact that they reap many benefits from the communities in which they sit. This is detrimental to low-income communities. The amount of money that gets funneled into churches can just as easily be spent on improving issues that leave many black communities in a state of devastation.
BAAm intends to tackle these issues within the black community by improving education. As part of this initiative, BAAm has created two main programs. The Science Cubed program is geared toward providing equal access to education for children despite their socio-economic background. Under Science Cubed, BAAm donates supplies to public school science teachers in low-income areas.
The second program, After-School Cubed, will be geared toward improving critical thinking skills for young age children. The program will serve as an inexpensive alternative after-school program for parents. The children not only receive assistance with their homework, but they are taught how to approach the material using critical thinking skills.
For more information about BAAm and its programs, please visit our website at www.blackatheistsofamerica.org.
Ayanna Watson was born and raised in New York where, as a student at a Christian-based high school, her studies of Christianity ultimately led to her rejection of the Bible. Upon becoming an atheist and recognizing the lack of diversity within the atheist community, she organized Black Atheists of America, Inc. (BAAm).

Remembering African American Humanism
Remembering African American Humanism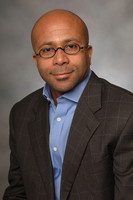 by Dr. Anthony B. Pinn
Black churches dominate popular imagination in the United States. And this Christian-bias is more intense during Black History Month, when talk of great figures such as Reverend Martin Luther King, Jr., enhances the assumed centrality of the churches. There is no doubt that the black Christianity tradition has played a significant role in the life of African Americans in particular and Americans in general. Yet it is important to remember the role non-theistic orientations have played in the development of the battles for social justice.
The moral and ethical commitments of African Americans have never been limited to the restrictions on conduct imposed through superstition and the gods of various mythologies. Some, like Frederick Douglass and later James Forman, pushed for the full humanity of African Americans through an appeal to only what human ingenuity and creativity could muster. This human-centered orientation has been just as vital, just as viable, and just as worthy of remembrance and celebration.
Sure, those I have named are well known in many circles, yet what is missing is recognition of their humanism—acknowledgements of the significant role reason and human effort have played in the advancement of this country. The efforts of these humanists and others like them aren't met with a hearty "Amen!" But that's okay. Important, however, is the occasional pause to reflect on the importance of the ethical platform and moral compass given us as part of the legacy of a long line of named and unnamed African American humanists.
But even atheists and humanists often fail to recognize the depth of African American involvement. Black History Month, then, is also an opportunity to offer an internal critique—an adjustment to a significant oversight within our ranks. We might begin this process by recognizing differing relationships to the modern period that anchors so much of our thinking and doing.
It isn't safe to assume all humanists have the same relationship to the modern period. Keep in mind that the brutality encountered by Africans as part of the slave trade is lodged within the "stuff" of modernity. African American humanism, mindful of the terror and dread marking the de-humanization of those of African descent, proclaims the significance of humanity over against efforts to deny the importance of black bodies. In this way, African American humanism is both a celebration of the modern period and a critique of the modern period. Complexity. Tension. Paradox. This should give us pause, and should encourage real reflection on what it has meant and what it means to be African American and humanist. Read what African American humanists have written, listen to what they say, and allow it to have an effect.
Even within humanist and atheist circles where there is at least the "shadow" presence of African Americans, we tend to simply call the roll of grand humanists who have maintained the tradition. While this recognition of legacy is vital (particularly at this time of the year), I propose we dig deeper and more fully express the sensibilities of a human orientation painstakingly implied by African American humanists and their non-theistic ancestors. That is to say, rather than simply acknowledging the diversity of our movement, we might take the next step and make diversity—difference—the hallmark of our movement, a core value without which we fail to live out the best of the humanist tradition and agenda.
Dr. Anthony B. Pinn is the Agnes Cullen Arnold Professor of Humanities at Rice University and director of research at the Institute for Humanist Studies.

Profiles in Humanism: A. Philip Randolph
Profiles in Humanism: A. Philip Randolph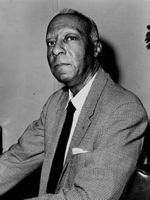 by Bill Daehler
A. Philip Randolph was the American Humanist Association's 1970 Humanist of the Year.
As A. Philip Randolph was among the most visible and important leaders of the American labor, civil rights and humanist movements of the 20th century. A tireless advocate for the poor, disassociated and disenfranchised, Randolph exhibited the best of humanist values throughout his life.
Randolph, the son of an ordained minister of the African Methodist Episcopal Church, was born in Crescent City, Florida on April 15, 1889.  After graduating as valedictorian of his high school in 1907, Randolph moved to New York to pursue an acting career but quickly gave up in favor of organizing labor and advocating socialist causes. He studied philosophy and economics at City College and soon began working for economic equality. He led a nationwide speaking tour opposing involvement in World War I, for which he was nearly arrested under the Espionage Act.
Randolph believed the NAACP with leaders such as W.E.B. Dubois was too slow and passive in asserting rights for America's black community. Instead Randolph militantly believed in achieving economic equality, a goal he pursued for not just African Americans, but for all disenfranchised Americans including poor whites, Native Americans, Puerto Ricans and Mexican Americans.
During his early years in Harlem, Randolph became the founder and editor of The Messenger, later called The Black Worker, a radically progressive magazine which was called "one of the most brilliantly edited magazines in the history of American Negro journalism."
In 1925, Randolph was asked to lead the Brotherhood of Sleeping Car Porters. For the next ten years Randolph worked to gain the Brotherhood better hours, wages and overtime pay.  In 1935, Randolph and the Brotherhood reached a collective bargaining agreement with the Pullman Company, a victory that Randolph called "the first victory of Negro workers."
Randolph soon began pushing for equality in the defense industry. After threatening a march on Washington, President Franklin D. Roosevelt issued an executive order in 1941 barring discrimination in the defense industry. Though a great victory, Randolph was criticized for not achieving desegregation of the armed forces. Seven years later under President Harry Truman, Randolph pressured the President into the ordering the desegregation of the armed forces and federal service jobs.
His peaceful tactics would strongly influence the civil rights movement of the 50's and 60's, leading him to be called the "father of the civil rights movement."
In 1955, Randolph became vice-president of the newly merged AFL-CIO. Randolph used his power to push for desegregation within the labor movement and wider society.
But perhaps Randolph's greatest achievement was organizing the historic 1963 March on Washington with fellow activist Bayard Rustin. The march was perhaps the most successful in U.S. history, culminating in Martin Luther King's "I Have a Dream" speech before a quarter of a million people.
For his efforts, Randolph was awarded the Presidential Medal of Freedom by Lyndon B. Johnson in 1964 and the Humanist of the Year award by the American Humanist Association in 1970.
In his later years, Randolph would found and later become president of the A. Philip Randolph Institute in 1968. The A. Philip Randolph Institute continues his struggle for a fair wage, health care, child care, education, job training and labor law reform laws.
"Freedom is never given; it is won," said Randolph. He continued his struggle for social, political and economic justice for all Americans until his death on May 16, 1979 in New York.
Bill Daehler is a former communications intern for the American Humanist Association.